A concert by the Newberry Consort, directed by Ellen Hargis
Presented by Early Music in Columbus, with SSCM's support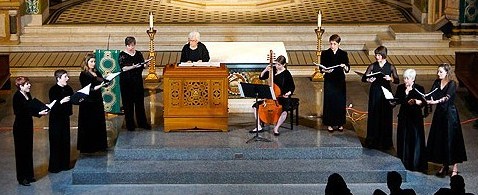 Saint Joseph Cathedral, 8:00 p.m.
This program offers a glimpse into the musical world of cloistered Catholic nuns in the seventeenth century.  Ellen Hargis writes, "Prepare to enjoy heavenly harmonies, toe-tapping rhythms, and the luminous sound of eight female voices together with organ and viola da gamba as we recreate the sonic glory of 17th-century convents."
The first half of the program focuses on convents in several Italian cities, where cloistered sisters were celebrated as musicians.  The second half turns to sacred music from a convent in Mexico, as found in a set of manuscripts at the Newberry Library in Chicago.  The Newberry Consort prepared this material in collaboration with Robert Kendrick of the University of Chicago and (for the Mexican repertory) a graduate student there, Cesar Favila.
The program is directed by Ellen Hargis, renowned singer of early music, who serves as artist-in-residence with the Newberry Consort.
Conference attendees may purchase tickets as part of the online conference registration.  Others may do so at www.earlymusicincolumbus.org.